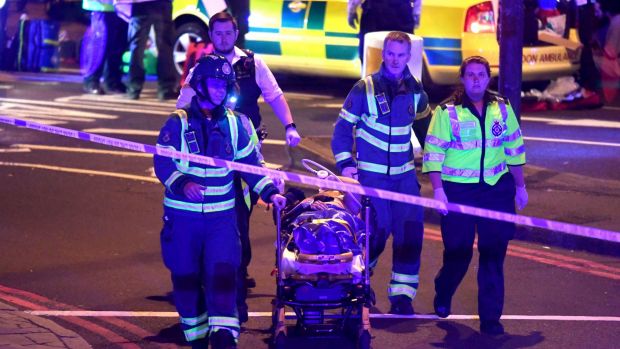 One man has died and at least eight people have been injured after a vehicle was driven into pedestrians close a mosque in north London.
The attack took place at 12:20am on Monday outside the Muslim Welfare House, close to Finsbury Park mosque.
The driver of the rented van, described as a large white man, was detained by members of the public following the incident.
One eyewitness described being surrounded by bodies, while another said the attacker shouted about killing muslims while he was held.
We have taken 8 patients to hospital following the incident on #SevenSisters Road in #FinsburyPark https://t.co/oL75V7ZUWD pic.twitter.com/KQNcFumxIC

— London Ambulance (@Ldn_Ambulance) June 19, 2017
In a statement, The Metropolitan Police said: "One man was pronounced dead at the scene.
"Officers are in the process of informing next of kin. A post mortem examination will be scheduled due course."
"Eight people injured were taken to three separate hospitals; two people were treated at the scene for minor injuries."
BREAKING: Reports of a van knocking over more than 10 people near #FinsburyPark mosque in London, police everywhere.pic.twitter.com/u2L5njLklY

— Tennessee (@TEN_GOP) June 19, 2017
Some reports suggested that the man may have also been carrying a knife, however police officers have confirmed that none of the injured had suffered stab wounds.
"At this stage there are no reports of any persons having suffered any knife injuries.
"The driver of the van – a man aged 48 – was found detained by members of public at the scene and then arrested by police in connection with the incident.
"He has been taken to hospital as a precaution and will be taken into custody once discharged. He will also be subject of a mental health assessment in due course."
My street in #FinsburyPark has been cordoned off, terror attack at the mosque a few feet away.Police responding admirably, citizens agitated pic.twitter.com/jviYvX745q

— Hillary Briffa (@h1llz) June 19, 2017
At the time of the attack, the area was busy with worshippers who had been attending Ramadan night prayers at the mosque.
Amongst them was Abdulrahman Saleh Alamoudi, who managed to detain the man before he had a chance to flee.
Speaking to Buzzfeed News, he said: "I think at least eight or 10 people got injured. Luckily I managed to escape. And then the guy came out of his van and I got him.
"He was screaming, he was saying, 'I'm going to kill all Muslims, I'm going to kill all Muslims'. He was throwing punches.
"Then we managed to get him on the floor. Then he was saying, 'Kill me, kill me'. I said, 'We are not going to kill you. Why did you do that?' He wouldn't say anything."
However, conflicting eyewitness reports say that the attacker did not speak at all.
Re #SevenSisters Rd #Finsburypark incident – At this early stage there are no other suspects, however the investigation continues.

— Metropolitan Police (@metpoliceuk) June 19, 2017
This is not the first time Finsbury Park mosque has been targeted. An attempted arson in 2105 saw a white man try to light a jerrycan full of petrol and throw it over the railings before he fled the scene on a moped.
Feature Image: James Gourley/Australscope