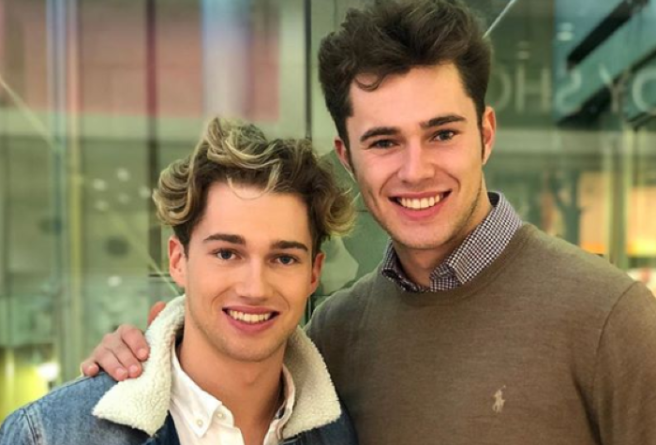 Strictly's AJ Pritchard and his brother Curtis were brutally attacked in a Cheshire nightclub.
The two boys were both home for the holidays visiting their parents' home in Stoke-on-Trent when the incident occurred.
They decided to head out to a nightclub in Nantwich, Cheshire (a place they had frequented in the past) with a group of friends.
On the dance floor, AJ was receiving the usual attention he gets from female Strictly fans when a group of men became aggressively jealous.
The brothers believe it was this jealous rage that triggered the surprise beating.
AJ told The Sun: "We were dancing as a group and, out of the blue, Curtis was violently pushed from the side. It all happened so quickly.
"Suddenly, we were surrounded by about eight blokes. He stuck his arms out to try and stop them and moved in front of me. But we were punched and kicked from all angles.
"We had no time to defend ourselves, by the time we even put our hands up we were being punched and kicked.
"It was like a scene out of a movie, with all the aggression and violence. Nothing like this had ever happened to us before."
Curtis saw four lads grab AJ when he quickly intervened to save his brother.
The dancing star threw himself between the thugs and AJ, taking the brute force of the attack as he was punched and kicked multiple times.
"Because my arms were down trying to protect AJ and push him back, a massive hook came at my face and hit me in the right eye," Curtis explained.
"Seconds later a second hook came again and hit me in the same place on my right eye. That's when my legs turned to jelly and I went down and blacked out.
"It was terrifying. I didn't know what was happening."
As security moved in to stop the attackers, AJ dragged his brother away from the danger.
Hit in both eyes, his nose, lips, and legs – AJ described Curtis as a swollen mess and was worried about his brother's condition.
The only thing on Curtis' mind was the state of his knee, he could feel the searing pain and could only hope that the injury wouldn't end his dancing career.
The star's fears have only worsened as plans for a knee operation have been made.
He was forced to pull out of Dancing With The Stars Ireland but is glad to have his family by his side for support.
AJ's Strictly co-stars have sent messages of support for Curtis and the Strictly finalist, who was left with a swollen and bruised body and face.
Saddened to hear about what happened to @Aj11Ace and his brother @CurtisPritchard the other night. for a speedy recovery boys

— Joe Sugg (@Joe_Sugg) December 29, 2018
Sending all the love to @Aj11Ace & his brother @CurtisPritchard wishing him a speedy recovery. Horrified to hear about the brutal attack upon them & their friends. Heartbreaking.

— Zoe Ball (@ZoeTheBall) December 29, 2018
We wish the best of luck to AJ and his brother on their road to recovery and hope the operation will save Curtis' knee.
He made a valiant sacrifice by stepping in to save his brother.