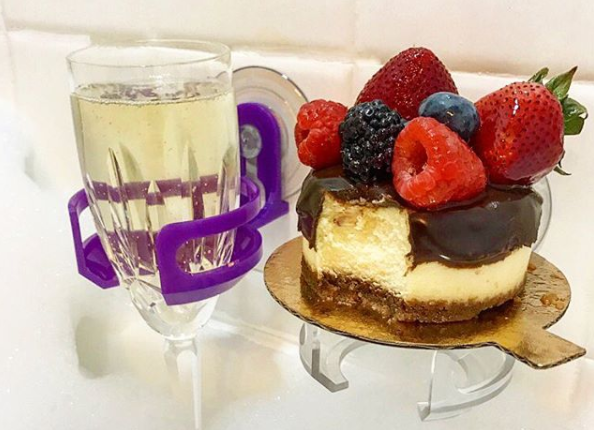 PSA: This genius gadget lets you sip wine while soaking in the tub
With winter fast approaching and the dark evenings setting in, there are few things more comforting then a long, hot, steamy bubble bath.
It's one of life's most simple pleasures and we're pretty sure we have routine down to a fine art at this stage – but hey, we're always open to suggestions (especially when those suggestions involve wine).
Introducing Sip Caddy, a nifty little gadget that's been especially designed to hold your favourite long-stem glassware – and leave in hanging within arms reach while you take that well-deserved soak in the tub.
The holders are made using sturdy material which, according to the manufacturer, can withstand up to seven pounds of pressure (that's roughly two and a half bottles, FYI).
Not a wine kinds gal? Not to worry. The caddy can be used to hold beer cans, juices, snack bowls, and pretty much anything small enough to fit on its surface.
And yes, that does mean cake in the bath.
You can pick up your very own Sip Caddy from the official website or on Amazon.