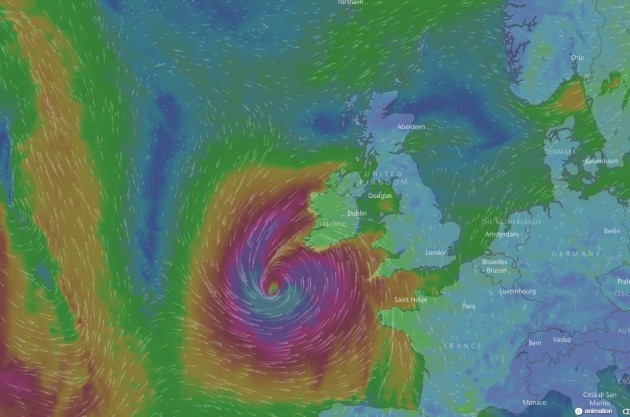 #Ophelia: Irish Twitter braces itself for the storm of the century
Us Irish don't really cope well with emergencies, now do we?
As the country braces itself for extreme winds and heavey rainfall, courtesy of ex-hurricane Ophelia, the Twitter folk of Ireland have done what they do best – make a complete joke out of a serious situation.
But seriously, who needs actual hurricane prep when we can laugh at memes instead?
Hurricane prep – charge your phones, power outage likely. Irish people – drain batteries laughing at hilarious hurricane memes #Ophelia

— Sibh Ward (@Little_ArmS) October 16, 2017
Positive thoughts in the work group chat this morning pic.twitter.com/D6vRPgxqEy

— DeBOO!rah (@omgDebbie) October 16, 2017
Dunnes Stores are closed nationwide. The streets have descended into chaos#Ophelia pic.twitter.com/EW1ydIIpqi

— Daniel (@Daniel_Reilly1) October 16, 2017
Nothing quite captured the gravity of #Ophelia for my mother like Dunnes closing nationally. 20 minutes of commentary on Dunnes so far.

— Naomi Brophy (@nankhunda) October 16, 2017
Cabin fever already setting in #Ophelia pic.twitter.com/Ymzjuoar9J

— niall (@niallfleming1) October 16, 2017
You've never truly seen panic until you've experienced your mum and gran lose the ability to boil a kettle during a power cut.#Ophelia

— Keith Williams (@ScribblerKeith) October 16, 2017
How do you batten down a hatch?? Asking for a friend.
#Ophelia

— never_again (@lynchaldino) October 16, 2017
I'd say the lads from Reelin in the Years are only delighted today.#Ophelia #HurricaneOphelia

— David Clarke (@thedavidclarke) October 16, 2017
#Ophelia; a haiku.

Strong Ophelia
Fast approaching from the sea
Grand day for drying


— Niamh O'Donoghue (@Niamh_Cupl) October 16, 2017