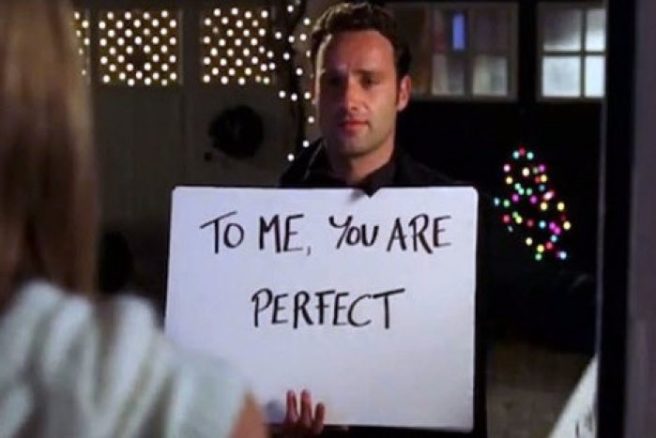 Here's a behind-the-scenes look at filming of the new Love Actually
So, yesterday we discovered that Love Actually is coming back to our screens, and it's getting a modern makeover courtesy of Comic Relief.
Red Nose Day Actually will be a special short-film version of the flick, in aid of Comic Relief.
Much to our delight, all of our favourite actors from the original have signed up to take part in the 2017 version of the classic film.
#rednosedayactually shoot. Day 1. Yum. pic.twitter.com/G7ihyTViw1

— emma freud (@emmafreud) February 16, 2017
Filming has already begun, and we've gotten some sneak peeks from behind the scenes courtesy of Red Nose Day director Emma Freud.
The BTS snaps show the likes of Liam Neeson and Thomas Brodie-Sangster filming new scenes.
So this just happened. #rednosedayactually day 1 of filming. Might have cried a tiny bit. pic.twitter.com/DQ3GxNSwLp

— emma freud (@emmafreud) February 16, 2017
Hugh Grant, Rowan Atkinson, Matrine McCutcheon, Keira Knightly, Liam Neeson, Colin Firth and Andrew Lincoln are all making a comeback for the sequel.
Day one of filming has just wrapped, and we're already beyond excited for the flick.
Oh hello #rednosedayactually cast member looking slightly older than she did in the original film…. pic.twitter.com/6OY7SHP9dc

— emma freud (@emmafreud) February 16, 2017
The new film is rumoured to be only 10 minutes long, and will be set 14 years after the original.
"We've been delighted and grateful that so many of the cast are around and able to take part – and it'll certainly be a nostalgic moment getting back together and recreating their characters 14 years later," writer and director Richard Curtis told the Mirror.
We cant wait to see that nostalgic moment for ourselves!