Helicopter hits pub and crashes near the Royal Canal
A helicopter has collided with a Co Longford pub, skidding into the nearby banks of the Royal Canal.
Incredibly, both passengers on board have survived the accident, though several bystanders have been treated for shock.
The incident took place at 9.15pm yesterday in the village of Abbeyshrule in Co Longford.
​The pub in question is the well-known Rustic Inn bar and restaurant.
Air accident investigators due@scene in next half hour here @#Abbeyshrule no injuries reported, some treated fr shock pic.twitter.com/O5TJ21DOLx

— Denise Canavan (@denisecanavan) July 15, 2015
Ciaran Doyle, 14, told RTE Radio today that he was doing work on his family's home with his father when they spotted the helicopter flying unusally low – prompting them to follow its flight path to investigate.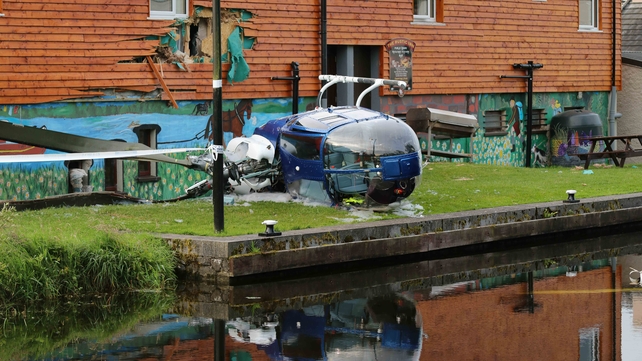 "I went up with my phone and recorded it, and it was hovering over the canal and we were watching it and it started to go in close to the Rustic Inn pub in the centre of the village," he explained.
"It was coming towards the back when it swung around and hit off the back of the wooden back of the Rustic.
"It tore it, and there was water coming out, and the minute I saw it my hands started to shake and I picked up the phone and dialled the emergency services," he said.
RTE.ie also reports that while the pilot and one passenger have not been seriously injured, significant structural damage has been caused to the pub.
A spokesperson from the Department Of Transport said two members of the Air Accident Investigation Unit attended the scene, and Gardaí have preserved it for a full investigation