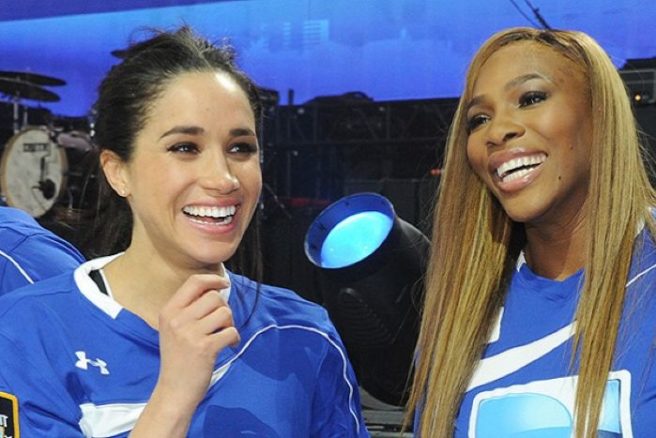 Girl Power: How Megan Markle and Serena Williams became friends
It is well known that the Duchess of Sussex, Meghan Markle, has a close friendship with tennis star, Serena Williams. The two have been seen spending time together on many occasions.
But how did they first meet? The pairs first interaction was reported to be during the 2010 Super Bowl in Florida.
Meghan said, "We hit it off immediately, taking pictures, laughing through the flag football game we were both playing in […] So began our friendship."
The women stayed in close contact, grabbing lunch when they were in the same town and texting often with one another. The Duchess reflected on their friendship, saying "what connects us more than those things is perhaps our belief in exceeding expectations — our endless ambition."
Congratulations @AngeliqueKerber on your first @Wimbledon title! And well played @SerenaWilliams, a great final #Wimbledon pic.twitter.com/aSOxucFHAa

— Kensington Palace (@KensingtonRoyal) July 14, 2018
As powerful public figures, we can see why this dynamic duo get on so well, and it was no surprise when Meghan was in attendance at Wimbledon two days ago. She turned up for her dear friend, Serena, cheering her on throughout the tournament.
Unfortunately, Serena's loss was devastating, but her following speech portrayed her defeat as just a small obstacle. Through her husband's (and Meghan's) support she is determined to come back even stronger next year.
Serena explained that she and the Duchess have always encouraged one another. The tennis pro said, "Now she's supporting me in a different role but our friendship is still exactly the same." During Serena's post-game speech, Meghan was spotted with teary eyes in the audience. She was proud of her friend's performance and moved by her words.
Meghan Markle got teary eyed over Serena Williams' Wimbledon speech for 'all the moms' https://t.co/LdIrYmm0dw pic.twitter.com/bahbS0CiWj

— HELLO! US (@hellomagUS) July 15, 2018
Earlier this year, Serena also showed her support for the Duchess by attending her royal wedding with Prince Harry.
Serena said that their friendship has remained the exact same since the royal wedding.
Can't help but smile. See you Saturday, #Wimbledon! ☺️ pic.twitter.com/FcZoN7CbdU

— Serena Williams (@serenawilliams) July 12, 2018
It is fantastic to see two strong women be so uplifting. A genuine friendship is hard to foster underneath the public eye, but we are happy to see that Meghan and Serena have not wavered in their affection for one another.