Dylan Oaks launch delicate new welded jewellery range in solid gold
Contemporary Jewellers Dylan Oaks have unveiled their latest creation with an everlasting touch of luxury – The Solid Gold Welded Bracelet. Made from 9k Solid Yellow Gold, or 9k Solid White Gold, this is more than just an accessory; it is a celebration of forever love, connections and memories. With an unwavering commitment to quality and design, Dylan Oaks have created a delicate piece of beauty that stands as a true testament to their legacy.
The Solid Gold Welded Bracelet embodies modern elegance that transcends trends. It is a statement of refined taste and a representation of enduring charm that never fades and its minimalistic design speaks volumes, making it a versatile adornment for every occasion.

Choose from four stunning classic designs available in both yellow or white gold; the Eternal Chain, the Dylan Chain, the Infinity Chain or the Tranquillity Chain. Once chosen, a Dylan Oaks' expertly trained jeweller will measure your wrist to ensure the perfect fit. The chain will then be welded using a state-of-the-art machine, resulting in a seamless, elegant bracelet that you can treasure forever. Customers also have the opportunity to personalise their bracelets with crystal charms and initials, making each piece truly unique.
Whether it's a gift to signify forever friendships or an eternal bond, the Solid Gold Welded Bracelet serves as a statement of timeless charm. Every bracelet is meticulously welded to create a seamless and flawless finish, ensuring it remains a forever memento that stands the test of time.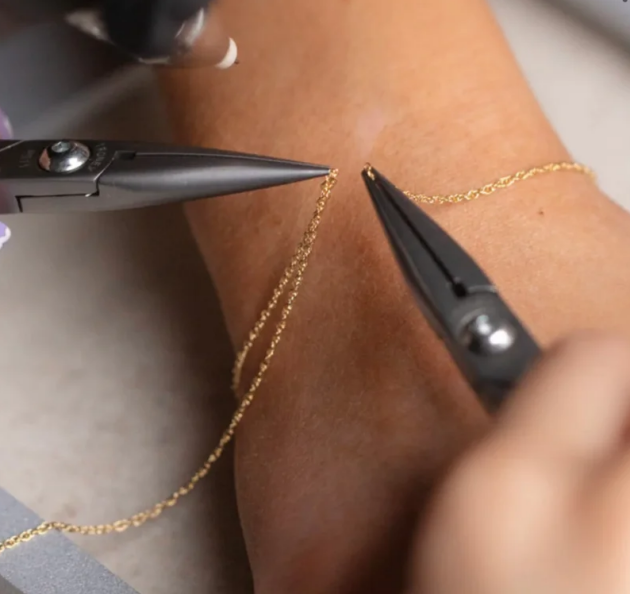 Visit Dylan Oaks in-store at Liffey Valley today and experience the allure of these welded bracelets first-hand. Book your appointment at www.dylanoaks.com.
Prices start at €99.00, and up to 3 charms can be added per chain, at €30 each.