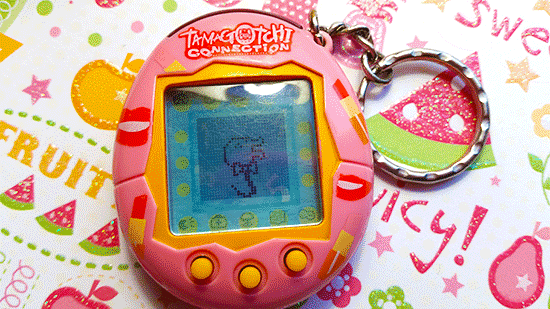 Calling all 90s kids! Tamagotchis are BACK and we need them
All 90s kids will remember the horror of getting your Tamagotchi confiscated in primary school, only to get no sympathy after choruses of "but he'll die, Miss" from your teacher.
By the time you got your precious baby back at the end of the day, he was literally on death's door, surrounded by little poops and crying out for food.
Oh, and you could never get a hint of pity from your parents, who simply did not understand the whole Tamagotchi concept.
Well, get ready to live your 10-year-old life all over again, because the Tamagotchi is the latest 90s relic to resurrect itself from the graveyard of hair mascara and diamante denim.
As well as being one of the first artificial intelligence toys, the Tamagotchi was the ultimate fashion accessory to jazz up your school bag, which is why we're totally behind this re-launch.
How kitsch would it be to have one of the baby bots attached to our keys?
And we'd have something else to do on our commute home than scroll through social media.
Unfortunately, the adorable but needy little critters are only being re-released in Japan, but there are plenty available on eBay for anything form €9.99 to €20.00.
Oh, and while we have you; don't forget to have your say in the inaugural SHEmazing Awards this May! It's time to vote, and you can do it right here!