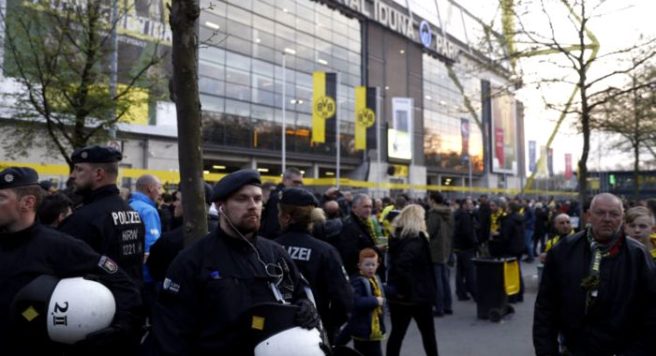 BREAKING: Three explosions gone off near German football team bus
Three explosions have gone off in Germany, just before a football match was expected to take place.
According to Sky News, Borussia Dortmund football club were making their way to the match when three explosions went off, hitting their team's bus.
Borussia Dortmund Champions League quarter-final match against Monaco has been postponed following an explosion in Dortmund

— Sky News Newsdesk (@SkyNewsBreak) April 11, 2017
It is being reported that football player Marc Barta was been injured as the vehicle's windows were smashed in during the ordeal.
He was apparently hit with shards of glass.
Match between Borussia Dortmund and Monaco is postponed after an explosion hit Borussia Dortmund's team bus. One person wounded. pic.twitter.com/7MAKvrWoi5

— When Sunday Comes (@WSCsupporters) April 11, 2017
The blast happened just as the bus left the players' hotel in Dortmund (which is 10km away from the stadium), where they were expected to play a match as part of the Champions League tonight.
The game has now been called off until Wednesday.