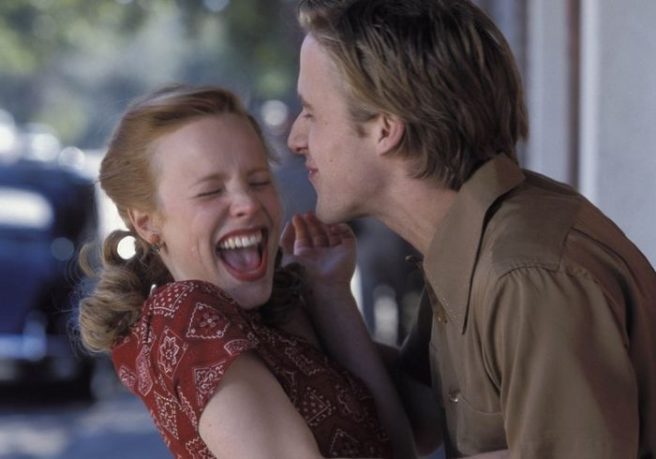 Netflix has changed the ending of The Notebook and we can't
There's nothing we love more than a good rom-com and The Notebook is just iconic.
From Rachel McAdams and Ryan Goslings fizzing chemistry to the cool 1940s fashion to teh absolute sob-fest of a finale, you can't go wrong with it.
Unless you're Netflix that is.
The streaming service has come under extreme fire on social media after fans were baffled at what appeared to be an alternate ending. Alternate…ending…of The Notebook?!
No, it cant be: Noah and Allie dance, Allie remembers their epic love story for a millisecond and then forgets and they die peacefully in each others arms we're bawling so hard at this stage.
WOW RAGIN forgot Netflix cuts off the ending of the notebook !!! Fs

— Rach (@rachaelbrysonx) July 29, 2018
However, in Netflix' version, after Allie remembers their love, they are seen holding hands before the credits roll.
Obvs fans went mad on social media – and rightfully so.
One said, ''DO NOT EVEN DARE GIVE US YOUR WEIRD EDITED VERSION OF THE NOTEBOOK. That ending is sacred!''
While another wrote, ''The @netflix in the UK doesn't show the full ending to The Notebook & I'm actually about to riot.''
We hear you.
Things you should know…

– we did not edit the notebook
– an alternate version exists and was supplied to us
– we are getting to the bottom of it asap
– apparently some films have more than one ending?!

— Netflix UK & Ireland (@NetflixUK) February 27, 2019
Netflix was alerted to all the dramz and took to Twitter to reassure viewers that they didn't edit the beloved flick.
They said that an alternate version exists and they played the one that they were given.
They soon updated the situation by writing, ''We've we've uploaded the correct (is it correct? who knows at this point) version so the familiar ending is restored.''
Well thank f*ck for that – now we're off to stock up on tissues and give the classic another watch.