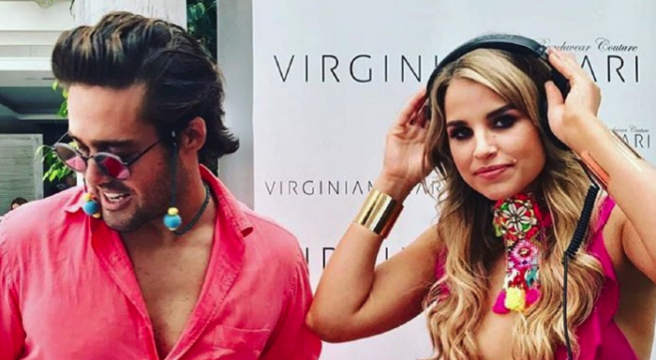 Will Vogue Williams appear on Made in Chelsea? Here's the answer
Vogue Williams and Spencer Matthews have been all loved up for a while now, and fans of the couple are dying to find out if Vogue will become a regular fixture on her boyfriend's reality show Made in Chelsea.
The TV star began her career on a reality show, RTÉ's Fade Street, so the idea isn't too out of the box.
However, Vogue has now put the rumours to rest, saying that it's not her kind of thing.
When asked about the series and if she'll become a fixture, the model said, "Absolutely not, no! Definitely not my thing."
Vogue explained that even though her and Spencer are very close, they have different projects going on at the moment, which keeps them apart from time to time.
"I'm on the path I want to be on. I love TV, so the more I get to do that the better, but I've got a really packed schedule at the moment.
"It's going really well. I'm away quite a lot so he's good enough to come and follow me at the end of my shows and we get a few days together. We're very busy but we do see each other as much as we can, which is nice.
"He's been working hard, but it's nice to have him back now – he's always really busy but that's just the nature of what we do," she explained to The Irish Daily Star.
And when asked about having a relationship that is so public, Vogue said that she doesn't really notice the attention anymore.
"It's fine, we get our private time so it's not something I really notice anymore. You can put yourself out there as much or as little as you want so we're quite careful about that as well."
So, there you have it. Vogue won't appear on MIC (but we're secretly hoping for a little cameo appearance in the future!).