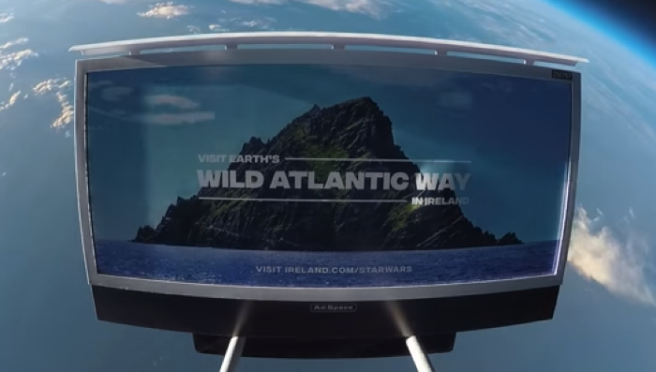 This new tourism ad for Ireland is completely wild from start to finish
When it comes to selling something, you might think a billboard on the side of the road would work pretty well, right?
Well in that case, you'd be basic AF, because the hippest new advertising method is to erect a billboard… in outer space.
Nope, we're not kidding, and that's exactly what Tourism Ireland just did.
A billboard highlightling Ireland's Wild Atlantic Way has been sent into space via weather balloon.
As well as showcasing the Irish landscape, the ad is also meant to celebrating the imminent release of Star Wars: The Last Jedi.
The ad hosts a snap of the iconic Skellig Michael island, a feature in the film.
The weather balloon reached an altitude of 33,390 metres, and Tourism Ireland say that it is 'technically' the first ad of it's kind.
The upcoming film will be released on December 15.
We're sure plenty of Irish residents will vbe watching from along the Wild Atlantic Way.