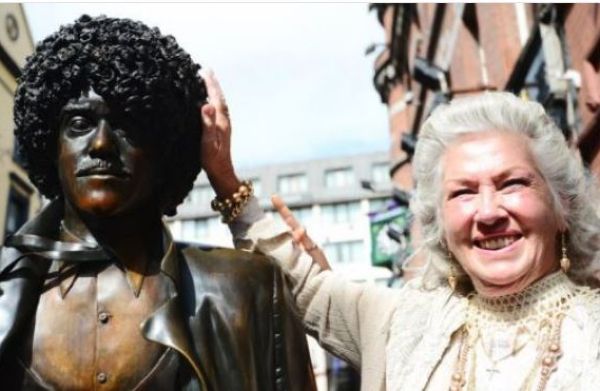 Thin Lizzy frontman Phil's mum Philomena Lynott has died aged 88
Phil Lynott's mum Philomena Lynott has passed away at the age of 88.
The mum of the Thin Lizzy frontman had been battling lung cancer for a few years.
Tributes have flooded in for the woman who was only 18-years-old when she gave birth to rocker Phil.
Philomena Lynott, the mother of Thin Lizzy's Phil Lynott, has died aged 88. She died on Wednesday morning, Hot Press has confirmed, after battling cancer for the past number of years. https://t.co/dWneGoWEen via @RTE_Ents pic.twitter.com/FRXrYWZtQI

— RTÉ (@rte) June 12, 2019
She made an appearance at the National Wax Museum in February 2018, when she unveiled artworks of her and Phil.
Phil passed away in 1986 at the age of 36 and Philomenas book My Boy went on to reach number 1 when it was published in 1995.
Philomena Lynott. I recall her tuning in to FM104 from time to time when I worked there, and contacting us to say thanks when we played her son's songs. A bizarre memory to pop into my head just now. May she rest in peace x pic.twitter.com/m4kQWNToKq

— Declan Pierce (@DecPierce) June 12, 2019
Social media was full of lovely messages for Philomena.
Presenter Nadine O'Regan said, ''Sad to hear about the passing of Philomena Lynott – she always struck me as occupying a really important place in Irish life – championing Irish music via her son's memory, but also representing changing times in Ireland. And endlessly stylish of course."
Gavin Duffy said, ''Just heard the sad news that #Philomena Lynott has passed away. What a Lady, great fun, so elegant and resilience personified. It was a privilege to be with her to celebrate what was now sadly her last Birthday. She was a spiritual mother to all us fans of her late son Phil. RIP.''
Rest in Peace Philomena – the world has gotten less bright today.