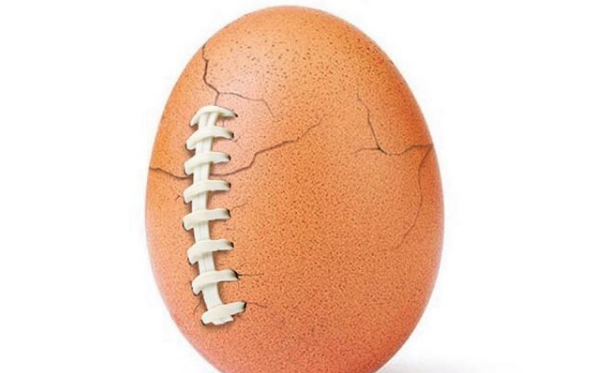 The World Record Breaking Egg is back & talking about mental health
Usually, the entertainment focus of the Super Bowl is the epic half time show, but this year, one of the adverts shown mid-game has gotten people talking.
Remember the World Record Breaking Egg, the egg that worked to overtake Kylie Jenner's world record for the most likes picture on the social media platform?
Kylie's Insta snap of newborn daughter Stormi has held the record at 18,000,000 likes until the egg project began – the egg received 52.1 million for a snap of a plain old egg.
Well, said egg, which now has 10 million followers, teamed up with Hulu to make a 30-second commercial about the pressures of social media and the importance of speaking out about your mental health.
The egg began posting a series of images on Instagram showing the egg getting progressively more cracked as time goes on.
In the ad, which aired during the American football marathon, reads: 'I'm the world_record_egg (you may have heard of me),' the text reads.
We'd like to thank #TalkingEgg for shining a limelight on #mentalhealth tonight with an important message. Not everyone chooses to #fightintheopen for mental health, but you did for the 1 in 5 Americans living with a mental health condition. Thank you, #EggGang! pic.twitter.com/9KPlXG5re4

— Mental Health America (@MentalHealthAm) 4 February 2019
'Recently I've started to crack. The pressure of social media is getting to me.'
'If you're struggling too, talk to someone,' the ad continued. 'We got this.'
The ad ends with a link to the Mental Health America website.