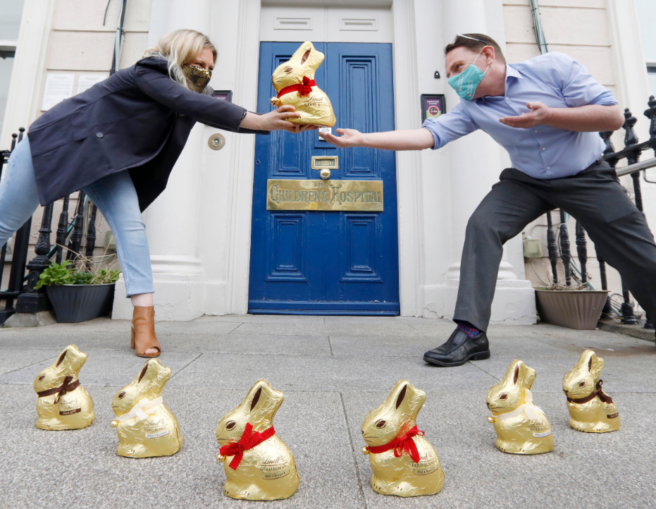 Lindt Ireland donates €40k worth of Gold Bunny Hunt Packs
For the past 14 years, Lindt Ireland has dedicated its Easter to raising vital funds for Temple Street Children's Hospital.
Since the relationship began in 2007, Lindt Ireland has raised over €250,000 for Temple Street Children's Hospital and now looks forward to supporting the Children's Health Foundation which encompasses Crumlin, Temple Street, Tallaght and Connolly children's hospitals.
This Easter the annual tradition continued despite the restrictions Covid 19 has imposed. The Lindt team donated €40k worth of specially created limited edition Easter GOLD BUNNY Hunt Packs full to the brim with chocolate and activity booklets to the Children's Health Foundation with funds raised from the sale of the packs going directly to the charity.
A number of Gold Bunny Hunt Packs were also given to frontline workers in Dublin's Children's Hospitals, who continue to work tirelessly through the challenges of the pandemic.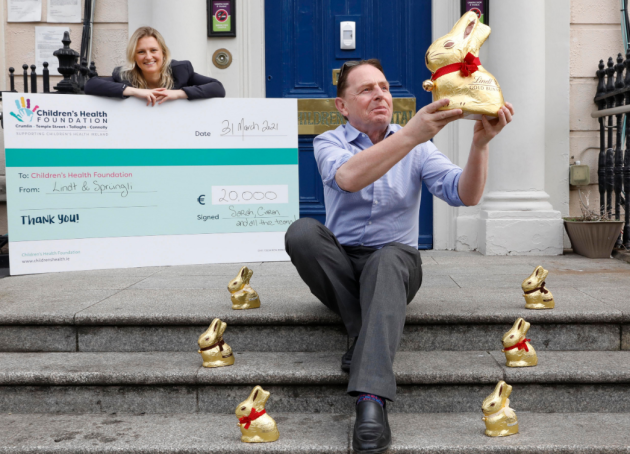 Lindt Ireland hopes to raise as much as possible to help support the Children's Health Foundation and so far has raised over €20k from this year's initiative.
Speaking about the annual partnership, Angela McNulty, Special Event & Community Manager at Children's Health Foundations, Temple Street said, "I have been lucky to work closely with the innovative team at Lindt Ireland over the last 14 years. The team is part of our "circle of care" community at the hospital and they have a great understanding about the work we do for the children in our hospitals. I am so grateful for our working partnership and indeed friendship, over the years. We could not do what we do without this kind of support. A heartfelt thanks to all the team and indeed the businesses and families who supported this year's Easter activity with Lindt Ireland."
For more than a decade, the team at Lindt Ireland has been dedicated to helping the charity purchase vital equipment with the money raised from the partnership and this year were eager not to let restrictions hinder the annual Easter fundraiser.
Speaking about this year's initiative, Brand Manager Sarah Burmanje said, "After 14 years of working together to raise vital funds for the Foundation, Angi and the team at Children's Health Foundation are almost like family. We are thrilled to be able to continue our fundraising efforts this year despite ongoing restrictions, by selling delicious GOLD BUNNY Hunt Bags full of chocolate for people to enjoy at home this Easter."
To make a donation, visit https://www.templestreet.ie/donate/.