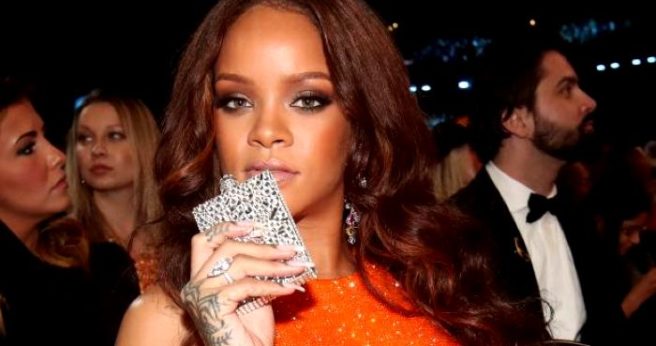 Twitter LOST it because Rihanna brought a hip flask to the Grammys
YES, Rihanna.
While the superstar didn't win big at the Grammys last night, she undoubtedly had a great evening… with the help of a hip flask.
Yep, like a lot of us who bring a shneaky naggin into *da club*, Riri brought a diamond-encrusted flask with her to the awards show and shared it among her friends.
The singer even posted a video of her getting caught, telling her mate, "I think it's time for another shot."
And of course, everyone absolutely loved her for it:
.@rihanna knows best pic.twitter.com/4Sp9L9midh

— Marie Claire (@marieclaire) February 13, 2017
Favorite #Grammys accessory: Rihanna's hip flask. pic.twitter.com/JFfZpGP9QB

— Tim Teeman (@TimTeeman) February 13, 2017
Move over, Leo and Leo's vape pen, there's a new It Couple in town. Rihanna and Rihanna's flask. https://t.co/l0Lynau46g pic.twitter.com/Vgr6KWTSpl

— E! News (@enews) February 13, 2017
"I think it's time for another shot" gotta love Rihanna
pic.twitter.com/Hbf6AE3mNV

— blessed (@BaesicalIy) February 13, 2017