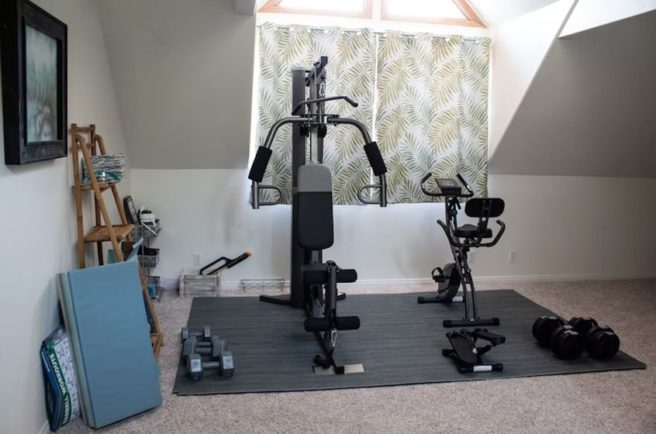 How to create a home gym when you have limited space
Creating a home gym can be intimidating, especially if you only have a small space to work with. But don't let that stop you from getting fit and healthy.
There are plenty of great ideas for setting up an effective fitness studio in even the tiniest of spaces. Whether it's a corner in your bedroom or living room, there is no shortage of options for creating the perfect home gym. This article will explore some amazing home gym ideas for small spaces, as well as tips on maximising your workout area without compromising on style or comfort.
What are Some Areas You Can Create a Home Gym in a Small Apartment?
Don't let a lack of sufficient space stop you from exercising. These areas in your home can effectively house your gym equipment.
1. Bedroom Corner
A great way to use limited space is to use just one corner in your bedroom for exercise equipment. Start by picking out two pieces you know you'll get plenty of use for, like a stationary bike or rowing machine that could easily fit into this type of setup.
Then you can build hanging shelves and fill them with weights and mats. It would be best if they could be closed to keep the items hidden away.
You may also consider adding mirrors to keep track of form while working out. The good thing about mirrors is that they come in all shapes and sizes and can be hung directly onto walls or rested against them, depending on what works best for your particular setup.
If possible, place these items close enough together that they're easy to reach while leaving room to move freely around them during exercises like burpees or mountain climbers.
2. Living Room Gym
Another great idea is turning part of your living room into a mini gym. This setup usually involves placing larger pieces closer to the centre, such as foldable treadmills and ellipticals. This allows them to take up more floor space while you keep smaller items like dumbbells along the edges where they won't encroach too much upon available space.
Again, wall-mounted mirrors are always beneficial here since they not only help with tracking progress but also create an effect that makes any tiny area look bigger than it actually is.
3. Garage
If you have a garage (or access to one in somebody's house like your parents for example!!!), you can section part of it to create a little space for your gym. You can opt for a foldable treadmill, a liteboxer wall mount, and weights.
Great Gym Ideas for a Small Space
In terms of what to put in your gym – there are plenty of options out there.
1. Enrol for a Future Fitness Membership
Creating a home gym allows us to control our environment better and save money. Since most of us don't know how to exercise properly, you can enrol in a fitness course with a certified company or trainer who will guide you.
The best part is there are multiple providers, such as Future Fitness, where you are assigned a trainer who provides you with a diet and a training schedule tailored to your needs.
2. Cross rope Get Fit Bundle
This bundle offers everything needed to start the jump rope journey, including weighted handles and different ropes. It is ideal for anyone wanting to build strength and endurance without going to extreme lengths.
Crossrope's innovative design transforms traditional rope jumping into dynamic calorie-burning workouts that help tone your body faster. And the best part is you only need a drawer to store your equipment and floor space for skipping, which you can do in your driveway.
3. Buy a Tonal Smart Gym
The smart tonal system brings the world's most advanced strength training techniques to your living room. It is an AI-powered gym that combines digital weight-lifting machines of up to 200 pounds and classic exercise movements.
It allows users to target specific muscle groups while strengthening their core and stabilising joints. This enables you to build a leaner and stronger body in the comfort of your home.
4. Liteboxer Wall Mount
Liteboxer is an important device used by many boxing studios across the globe. Thanks to modern technology, it can be mounted directly onto a wall, enabling the same quality experience minus the expensive fees associated with a gym.
The equipment kit has two pairs of gloves and other exercise accessories, like resistance bands and hand wraps, ensuring the most out of your punches.
5. Get Yourself the Alo Yoga Ultimate Home Studio Set
If you love yoga, get yourself the Alo yoga ultimate home studio set. It contains high-end tools specifically designed to enhance practice anywhere and anytime. From blocks, straps, mats, and a tote bag to hold your items.
6. Escape Fitness Deck V2.0 Workout Platform
This multi-functional platform allows users to perform complex exercises requiring complex movements. Not only does its unique design offer stability, but it also comes with several attachments, such as balance boards, resistance bands , and medicine balls, ensuring you get the most out of your workout.
7. Hyfit Gear
Hyfit offers an excellent solution for anyone looking to train their muscle groups from home. The gear includes several resistance bands and an app that tracks your workouts.
The gear supports more than 500+ exercise moves and can be used for upper- and lower-body workouts. It doesn't matter whether you want to keep fit, lose weight, or build muscles; Hyfit Gear will help you accomplish it all.
8. PowerBlock Elite Dumbbells
These adjustable dumbbells are perfect for those with limited space to store regular ones. With a simple click, you can switch weights between 5lbs and 50lbs, so you never need to worry about not having the right equipment hand when exercising.
The dumbbells are available in two sizes, a 5-50 pound set, and a 5-70 pound set. So choose your poison.
9. The DB Method
DB Method's amazing machine revolutionises core toning workouts and helps people achieve flat stomach dreams within a short amount of time. Its patented technology mimics natural motion, allowing concentration on deep muscles under your belly button, and activating them far more than traditional methods using weight machines.
10. SKLZ Slides Stability Discs
Sliders are an awesome low-impact alternative to strength training as they work out your entire body without putting strain on your joints and ligaments. SKLZ brand discs come in two sizes, enabling individuals to choose the best for their needs while providing smooth gliding.
11. MiHIG Sauna Blanket
If you hate going to a public sauna and have no funds to build one at home, opt for the next best thing, the MiHIG sauna blanket. It is designed to maximize the user's performance after any workout routine, as it helps burn calories faster through a combination of infrared heat + vibration tech inside the fabric.
You can burn up to 600 calories if you use it for 30 minutes, making it an excellent option for relaxing after your workout.
Tips to Utilize Small Spaces for Your Gym
When setting up your gym at home, there are a few things you can consider to help you make the most available space.
● A Storage Rack
One crucial thing to consider when creating a gym in a small space gym is a storage rack. These handy little contraptions allow you to organise equipment easily without taking up too much room.
● Add Mirrors
If you want something more chic than practical, why not go for a mirrored look? Mirrors provide both aesthetic value and practicality, being able to see yourself mid-workout.
Choose either full-length ones covering entire walls or several smaller ones placed strategically throughout the room.
● Paint the Ceiling
Painting the ceiling with vibrant colour adds extra pop and life to tired-looking spaces, making them look brighter and less claustrophobic. Choose something eye-catching yet subtle and ensure it doesn't clash with the rest of the décor.
● Ensure the Space is Well Lit
Lighting is often an overlooked aspect when creating mini gyms. It allows you to see what you are doing, especially if exercises involve watching your refection in the mirror.
● Keep the Equipment at a Minimum
When dealing with limited square footage, better keep the number of gym items to a minimum; otherwise, you risk running out of space or making it look too overcrowded. Try using some of the pieces of equipment we've recommended above.
● Convert Spaces
Convert unused spare rooms into a gym. This can be your garage, attic, or basement.
● Create a Dedicated Space for Your Home Gym
Creating a personal gym at home doesn't necessarily mean using an entire room. You can still use small areas within the house to create designated areas solely used for recreational activities.
Creating a functional workout space in even the tiniest of rooms is totally doable if you know what to look out for and have access to the right resources.
Now you have all the information you need to get started on your own exercise space, regardless of the square footage you may have. Don't be afraid to mix and match different bits and pieces until you find something that works best for you.