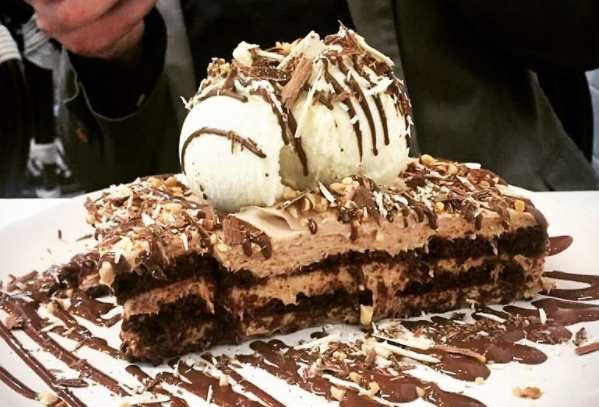 Don't have room for dinner and dessert? Why not combine the two?
Pastry chefs at Tella Balls Dessert, a Sydney café known for its glorious Nutella-filled creations, have just conjured up the ultimate lasagne-style dish.
Having originally found their niche in indulgent milkshakes, café owners, Aki Daikos and Simon Kappotos, say they enjoy exploring their culinary skills.
Speaking to The Daily Telegraph, Aki said: "We love putting a spin on food and getting experimental in the kitchen, so we thought, why not create a savoury dish, sweet using Nutella."
Unlike a traditional Italian lasagne, you won't find any pasta or tomatoes in this sweet dish.
Made up of layers of rich chocolate mousse and fresh cream, this decadent tower is served on top of a chocolate biscuit base and paired with lashings of tasty Nutella.
And the paste-esque dishes don't stop there.
'Pastaella' is a fettuccine-inspired style crepe served with milk and white chocolate sauce, and finished with a dollop of the house-made vanilla bean gelato.
"It's all about great taste. Chocolate and Nutella are food for the soul," Aki said.
Never a truer word said, Aki. So, who's up for a trip down under?